About us
Warp United Scientific Co., Ltd. is a Chinese pioneer Health 2.0 / Point-of-Care mobile solution manufacturer headquartered in Shenzhen that designs, develops, and marketing mHealth hardware, software, and online services. The company's hardware products include the Warp Medical Recorder, VolansTM Vital Sign Module and UrxaTM Ultrasound Module. Medical software and online service include the Warp UnitedTM cloud EMR (Electronic Medical Records) and productivity suites. 
Warp United was founded by Kilo LIANG and Dongdong ZHENG in April 2013. The founding partnership of doctors and engineers are driven by a goal in medical information infrastructure, data management, analytics and artificial intelligence (AI). Warp United committed to improving access to healthcare data stream and supporting the front-line healthcare around the globe. 
Specialty
Over 40% members of the founding team are qualified physician.
Experience
Spearheaded by experts of medical, defense, and IT industries. 
Mission
To empower the frontline healthcare with medical information.
Vision
To make doctor free and mobile again.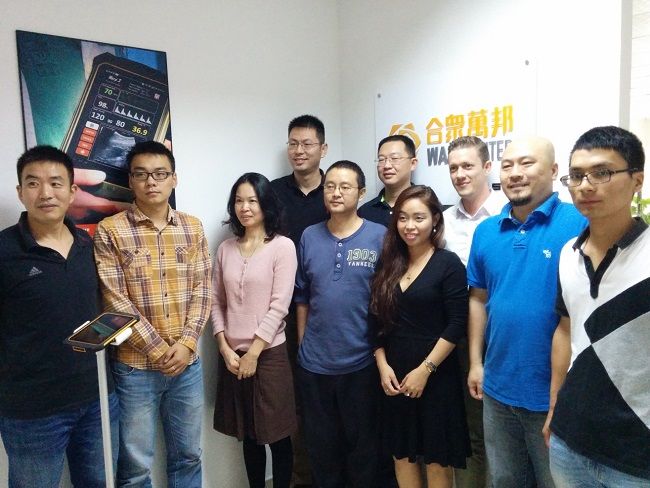 Shenzhen Warp United Scientific Co., Ltd.
Shenyuncun 8-26A, Nanshan
Shenzhen 518053, China
Tel: +86 755 2877 2187
About "Warp United"
The name "Warp United" comes from the basic idea of "Warp Drive". We define ourselves to develop the next generation medical device, so that our product could actually equip the medical officer on board a warp space ship. The Medical Recorder was inspired by the definition of "Medical Tricorder" from Star Trek. We tried to call it that way, but the CBS had a different opinion, since the name "Tricorder" is already her registered Trademark in China and the USA.
Warp drive is a faster-than-light (FTL) spacecraft propulsion system in many science fiction works, most notably Star Trek. A spacecraft equipped with a warp drive may travel at speeds greater than that of light by many orders of magnitude.
    -by wikipedia.org
About "Point of Care"
Clinical point of care is the point in time when clinicians deliver healthcare products and services to patients at the time of care.
    -by Information at the Point of Care: Answering Clinical Questions. Ebell, Mark, 1999, 12(3), 225-235.