Bio-Eco Hospital Wastewater Treatment Solution
Overview
Bio-Eco Hospital Wastewater Treatment Solution is based on bio-augmentation technology, which is highly efficient with a variety of microbial populations screened from nature. The microbial strains in bioreactor degrade pollutants with enzyme in an eco system way. Bio-Eco microorganisms have strong environmental adaptability, and the treatment system can self-maintain for a long time and remain stable. Bio-Eco microbial populations can effectively decompose organic pollutants into stable substances such as carbon dioxide and water, and completely eliminate malodorous gases.
Hospitals discharge considerable amounts of chemicals and microbial agents in their wastewater. Chemicals present in hospital wastewater belong to different groups, such as antibiotics, X-ray contrast agents, disinfectants and pharmaceuticals. Many of these chemical compounds resist normal wastewater treatment. Microbial agents of special concern are multiresistant microbial strains. By a combination of special microbial culture technology, Bio-Eco bioreactors, which rapid grow and reproduction in the Bio-Eco tank with the hospital wastewater, eliminate those strains, cells, and chemicals, so that the effluent meets the emission standards.
Features
Variety of special microbial flora of the environment
No surplus sludge generated during the process
Modular design with multiple parallel processing unit
Easy operation and management, simple maintenance
| | | |
| --- | --- | --- |
| Effluent Standard |   |   |
| Item | Unit | Max. |
| PH |  -- | 6-9 |
| BOD | mg/L | 30 |
| COD | mg/L | 100 |
| SS  | mg/L  | 30 |
| E. Coli | CFU/100ml | 2 x 105 |
Key Technologies
Bio-Eco Bioreactor
The Bio-Eco Bioreactor is made of specially engineered wood. During the manufacturing process, wood-decay-prone ingredients are removed, and a certain amount of the cellulose, lignin and pentosan components are preserved. They are physically treated to achieve a porosity of 75-85% for the growth of microbial flora. In the system, bioreactors are semi-suspended in water, increasing the gas, liquid, solid three-phase contact area.In these bioreactors, microbial flora keeps humidity, stability, bio-efficiency. The system does not require replacement of the bioreactors frequently, only small amount of supplement per year.
Variety of Bacteria Flora
Microbial population in the Bio-Eco system coexists in a variety of microorganisms with different functions and coexists in the Bioreactors. The biomass per unit volume is rich in biota and has high biological activity. It can quickly decompose organic compounds and eliminate hydrogen sulfide and ammonia nitrogen, etc.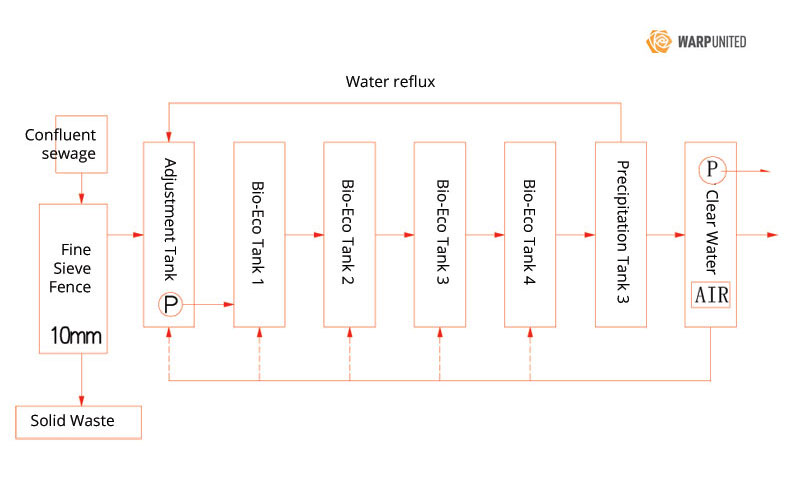 Aeration Device
The aeration tube with ultrafine air suppl has many tiny "I" type pores on the tube. The microporous section has a certain slope so that the air bubbles are not only small and dense, but also able to be automatically shut down to prevent blockage, or to be maintained without shut down. 
Micro-bubble generation keeps a high rate of oxygen dissolution rate
Ultrasound bubble movement for a high degree of cooperation
High-speed strong and stable water
Increase the reproduction of micro-flora;
Due to the different pore depths in the KOT biological incubator, the aeration distribution is not uniform, so that the anaerobic zone, the anoxic zone and the aerobic zone coexist in the same tank. In this way, the wastewater passes through the processes of aerobic, anoxic and anaerobic processes after passing through each treatment tank, greatly enhancing the treatment effect. The system has abundant biological phase and high biological activity, forming an ideal ecological system, and the pollutants are completely decomposed.
Case Study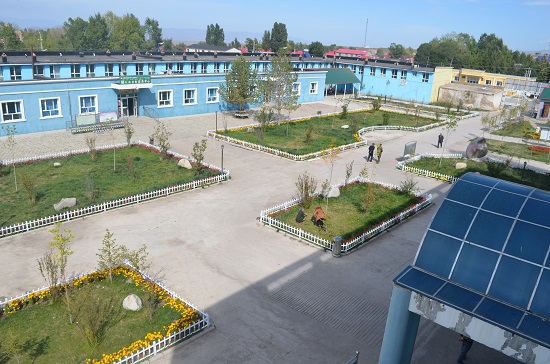 Town Hospital with 79 beds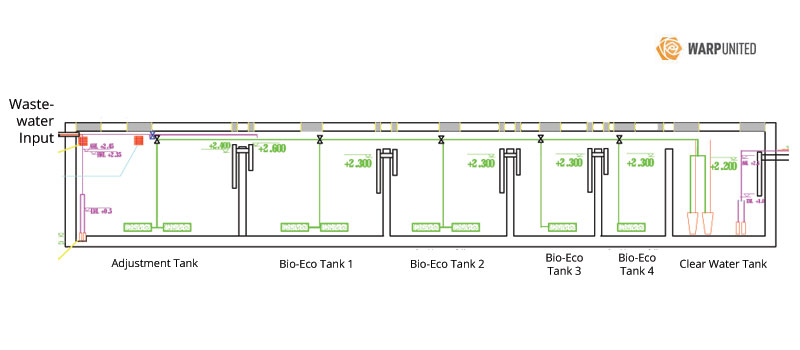 Design Specifications

1. Input:

Time: 24hrs

Sources: Wastewater, Washing and other miscellaneous sewage from the Outpatient building and the emergency building

2. Output calculation:

Outpatient Building, Emergency Building Consolidation:

Clinic: 48 person * 0.25m3 / person*day = 12CMD

Lobby:

16 person * 0.25m3 / person*day = 4CMD

Bed:

79 beds * 1.5 person / bed = 118.5 person

118.5 person * 0.35m3 / person*day = 41.475CMD

Office:

200 person * 0.1m3 / person*day = 20CMD

Total: 87.15CMD/day

3. Max daily wastewater volume: 87.15CMD * 1.2 = 104.58CMD

4. Designed wastewater volume: 140CMD

5. Estimated quality of wastewater

BOD5 ≒ 160 mg / L SS ≒ 160 mg / L

6. System equipment and power requirement

Adjustment tank pumping motor 1HP * 2 (incl. 1 standby unit)

Submersible blower 2HP * 2 (incl. 1 standby unit)

Cumulative ultrasonic flowmeter, Reflux Switch 30A

Total: 30A

7. Non-power equipment

Fine bubble aeration tube 600mm * 32

8. Function calculation

1) Adjustment tank: inflow 140CMD Hrts ≒ 6

BODin ≒ 160 mg / L; BODeff ≒ 160 mg / L BOD degradation rate: 0

SSin ≒ 160 mg / L; SSeff ≒ 160 mg / L SS degradation rate: 0

The main purpose of this tank is to regulate volumn

2) Bio-Eco tank 1: inflow 140CMD Hrts ≒ 6.5

BODin ≒ 160 mg / L; BODeff ≒ 90 mg / L BOD Degradation rate: 40 ~ 50%

SSin ≒ 160 mg / L; SSeff ≒ 110 mg / L SS degradation rate: 30 ~ 40%

3) Bio-Eco tank 2: inflow 140CMD Hrts ≒ 5.5

BODin ≒ 90 mg / L; BODeff ≒ 50 mg / L BOD Degradation rate: 40 ~ 50%

SSin ≒ 110 mg / L; SSeff ≒ 55 mg / L SS degradation rate: 40 ~ 50%

4) Bio-Eco tank 3: inflow of 140CMD Hrts ≒ 4

BODin ≒ 50 mg / L; BODeff ≒ 30 mg / L BOD Degradation rate: 30 ~ 40%

SSin ≒ 55 mg / L; SSeff ≒ 35 mg / L SS Degradation rate: 30 ~ 40%

5) Bio-Eco tank 4: inflow 140CMD Hrts ≒ 3

BODin ≒ 30 mg / L; BODeff ≒ 25 mg / L BOD Degradation rate: 10 ~ 20%

SSin ≒ 35 mg / L; SSeff ≒ 28 mg / L SS degradation rate: 10 ~ 20%

9. Tank design

NL: Tank length; NW: Tank width; NH: Effective water depth; ND: Tank depth 2.96m

1) Adjustment tank: > 8hrs

Volume: 140 M3 /24*8=46.6 M³

Effective volume: 4.4M (NW) * 4.6M (NL) * 2.35M (NH) = 47.564M³

Equipment Configuration:

Fine mesh fence aperture 10mm * 2 at water inlet

Water pump (including level control) 12m3 / hr 1HP

AWL: 245cm HWL: 235cm LWL: 50cm

Fine bubble aeration tube * 8, Air control valve * 1

2) Bio-Eco Tank 1: > 6.5hrs

Volume: 140 M3 /24*6.5=37.92 M³

Effective Volume: 4.4M (NW) * 3.9M (NL) * 2.3M (NH) = 39.468 M³

Device Configuration:

Fine bubble aeration tube * 10, Air control valve * 1

3) Bio-Eco Tank 1: > 5.5hrs

4Volume: 140 M3 /24*5.5=32.08 M³

Effective volume: 4.4M (NW) * 3.2M (NL) * 2.3M (NH) = 32.384M³

Device Configuration:

Fine bubble aeration tube * 8, Air control valve * 1

4) Bio-Eco Tank 3: > 4hrs

Volume: 140 M3 /24*4=23.3 M³

Effective Volume: 4.4M (NW) * 2.3M (NL) * 2.3M (NH) = 23.276 M³

Device Configuration:

Fine bubble aeration tube * 4, Air control valve * 1

5) Bio-Eco Tank 4: > 3hrs

Volume: 140 M3 /24*3=17.5 M³

Effective Volume: 4.4M (NW) * 1.8M (NL) * 2.3M (NH) = 18.216 M³

Device Configuration:

Fine bubble aeration tube * 2, Air control valve * 1 

6) Return sink: surface load 0.64M3 / M2 * h

Volume: 140 M3 /24*2=11.67 M3

Effective Volume: 2.2M (NW) * 2.6M (NL) * 2.2M (H) = 12.58 M3

Air lift refluxer, Valve, Control switch

7) Clear water tank:

Effective Volume: 2M (NW) * 2.6M (NL) * 2.2M (NH) = 11.44 M3

Device Configuration:

Submersible blower, air control valve * 1

1.5KW, outlet diameter: 2 ", pressure 0.2Kgf / cm2, volume 2.8M3 / min

Released on natural gravity, motor pump in emergency AWL: 225cm LWL: 100cm

8) The cumulative ultrasonic flowmeter